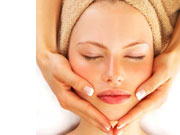 FACIAL SHAPING MASSAGE MASK
Looking for an easy and affordable way to give yourself a facial lifting?
As we age, our skin loses the elasticity. Sagging skin and wrinkles appears. Fat accumulates around the jaw, resulting double chin.
This Facial Shaping Mask can imitate facial muscle movement. It provides an air pressure massage and electronic pulse massage for your face at the same time. It's a like giving your face muscle a mini-work out.
By training your facial muscles, you skin will be more tight and firm. Try this facial shaping mask to massage away those cellulite!
What's so Special About this Facial Shaping Mask.
Air Pressure Massage:
The Facial Shaping Mask uses an inflatable air bag, which can imitate facial muscle movement through inflation. It gently massages your face muscle, firm facial contours and work on puffy fat.
Electronic Pulse Massage:
The Facial Shaping Mask has a pulsed electronic stimulating function, which can massage your facial skin deeper for beautification. This function can improve facial skin texture, give your skin a healthy glow.