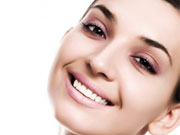 100% Organic Facial Gel ~ Fyola Skin FoodTM
As time has gone by, you're still you, and yet, you've changed. Your eyes are bright, you're healthy, and yet, appear tired. You're following a facial beauty regime, and yet, you're missing that 'glow' you used to see.
Get FYOLA SKIN FOODTM TONER GEL
Truly "Skin Food" all natural ~ toner gel 100% organic


Moisturizer – Cleanser - Toner
Use alone, applying as you normally would a cream or lotio. But for even deeper skin penetration and skin healing results, we suggest using with the Fyola Lite facial machine
Noninvasive - Easy to use - Works naturally
Applying a moisturizer after a treatment is
a way of keeping the signs of aging at bay.


Fyola Skin Food

TM (toner gel, 100% organic)

It's specially formulated for the Fyola Lite facial machine.


Recommended by Dermatologist Dr. Ansul Khan (Arizona, USA)
"Fyola skin food allows an efficient penetration of actives into the deeper levels of the skin together with Fyola Lite device. Various studies have proven the healing, anti-inflammatory, anti-oxidant & hydrating benefits of the ingredients incorporated within the Toner Gel by Fyola Lite."

See the full report of Doctor Ansul Here
Special Bonus
100% Organic
FREE Shipping
30 Days Money Back
The signs of aging aren't inevitable.
You can do something about them.
You can alleviate and eliminate the ones you have.
The signs of aging are not problems, they are symptoms.
Symptoms of damage to your body.
Symptoms of damage to your body's largest organ
Symptoms of time and exposure on
Your skin…the organ that protects all other parts of your body from harm. Your skin is the "armor" protecting you against things such as ultraviolet rays, bacteria, infection, and disease.
This is why other anti-aging products you've tried
just don't feel like they're working.

Your skin as a barrier is very important to your health.
But, also blocks the absorption of nourishment.
Why don't you get better results from those expensive branded lotions, serums and creams you're currently using?
The nutrients don't go deep into your skin,
due to skin's protective "armor" and barrier qualities.
You're going through a lot of expense and energy just to slather skin care products on to just lay there on the surface of your skin.
The skin is made up of 3 layers:
• epidermis • dermis • subcutaneous tissue
The epidermis is the outer layer and is the barrier to the external environment. Cells of the epidermis move from the bottom layer to the top, building up a tough outer shell. When these cells reach the top layer, they flake off. If this process becomes abnormal or happens too quickly the skin begins to look scaly and dry.
As we age, the number of epidermal cells decreases by 10% per decade. They also divide slower, making the skin less able to repair. The cells themselves become thinner, and less tacky. This decreases the effectiveness of the barrier function allowing moisture to be released.
This makes the skin noticeably thinner, drier, and unhealthy.
Your skin is constantly regenerated every 28 days. 4 weeks is the natural life-cycle of your skin's cell structure. But time takes its toll and things change.
Fyola Skin Food

TM Toner Gel works by helping and assisting your skin
earlier in its natural processes.

It enhances the absorption of natural nourishing nutrients, deep down, to help your skin's cellular structure sooner.
See for yourself,
how Fyola Skin FoodTM Toner Gel can be all natural,
100% organic,
and so much more effective than what you're using now.
OK – Fyola Skin Food Toner Gel is all natural and 100% organic but you may be asking
"How does it work? And why is it so effective?"
Special Bonus
100% Organic
FREE Shipping
30 Days Money Back
Here's why Fyola Skin FoodTMToner Gel is so effective
explaining just 5 of its many nutrients and ingredients:
Aloe: One of the skin care all-stars, having the ability to reverse scarring, speed healing, and protecting the skin, AND reduce inflammation!
Seaweed: This natural marine wonder helps slow the aging skin process, while protecting it from the harsh environmental elements, protects the skin from damaging free-radicals AND is packed with essentials in maintaining healthy and youthful skin.
Chamomile: Is an antiseptic and anti-inflammatory with healing properties coming from its essential oils, speeding healing AND preventing bacterial infection, very beneficial for your skin.
Nettle Leaf: A natural anti-septic having cleansing and soothing benefits, easing skin conditions such as Psoriasis, eczema, acne, AND relieving skin irritations.
Elder flowers: Helps prevent wrinkles from developing, it also causes the skin to tighten, reducing the size of pores, smoothing the skin AND protecting your skin against the sun and other free-radical damage.
Get Fyola Skin FoodTM TONER GEL
Truly "Skin Food"
all natural
toner gel
100% organic
Moisturizer – Cleanser - Toner
Special Bonus
100% Organic
FREE Shipping
30 Days Money Back
Best Facial Serum For Facial Machine